It's that spooky time of year again! Get in to the Halloween spirit by decorating your home for the occasion.
To keep clean-up to a minimum, we highly suggest making your front door the star of the night. Door decorating has become more and more popular over the years and we're jumping on the band wagon too! These are our go-to tips to ensure your home is fun, festive, and damage-free this Halloween:
Keep it Crafty 
The best way to keep your door from being damaged is by using as little adhesive as possible! Start by working with lightweight materials such as toilet paper, cobwebs, and construction paper. These lightweight accents are great materials to work with because they can be cut, draped, or shaped to your liking. With non-heavy materials, little masking tape or damage-free adhesive will be enough to achieve the look you're going for.
Now- the next question is: what door decor can your create with just using toilet paper, cobwebs, and/or construction paper? The options are truly endless but some of our favourites include: a toilet paper mommy door (tutorial here), popular character-inspired doors such as Jack Skellington (tutorial here), and the classic cobweb and spider door (tutorial here).
Decorate Beyond the Door
Your door will still be the centerpiece of this decorating method even though the decorations will branch out beyond the door itself. This style is awesome because it means you have a bigger canvas to work with but can still keep clean-up to a minimum! Because decorations will go beyond the door, it creates a focal point and almost frames your front door, making it pop a little bit more. If you are someone looking to use a variety of materials without scratching or puncturing your door, this decor style is just right for you!
Need some inspiration? Check out these creative "beyond-the-door" decorating ideas: Bats flying over your door (tutorial here), Dollar Store Decor Door (tutorial here), and the very spooky, spider web cave (tutorial here)!
Less is More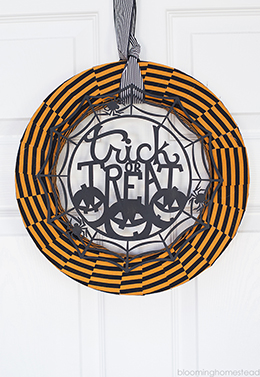 Who says wreaths are only for Christmas? Keep your door simple, festive, and traditional with a store-bought or DIY Halloween wreath! Wreaths are awesome because they make a statement without a hectic or lengthy set-up time. Although wreaths are a great go-to to bedazzle a door, they can be a hassle to hang up – especially for home owners with glass doors! With that in mind, we have come up with two options you can use to hang up your wreath without puncturing your door:
Command Hooks – command hooks or strips are popular because they are known for being "damage-free" and they are super easy to use!
Over the Door Wreath Hanger – these can be a little tough to find during Halloween season but are almost everywhere around Christmas time! These wreath hangers lessen the chance of door damage because they are designed to sit on top of your door, therefore no adhesives are needed!
Now that you know how to hang up your Halloween themed wreath, take a look at these wreath decorated doors to get you inspired: the Witch boot (tutorial here), the creative, DIY Halloween wreaths (tutorial here), and the spider web wreath (tutorial here).
Don't be afraid to step outside of the box this year. Your home deserves to dress up for the occasion too.
Happy Halloween from the entire Modern Windows and Doors team!