Did you know that windows can play a role in impacting your happiness? Windows bring in natural light and gives us the ability to let in fresh air, ultimately benefiting our mood and health! Not only do your windows influence your mood but they also help define the style of your home. With customization options being endless for windows, you are bound to find one that best suits your needs. Shall we take a look at the most popular windows styles available? We love them and we think you will too.
8 Different Window Types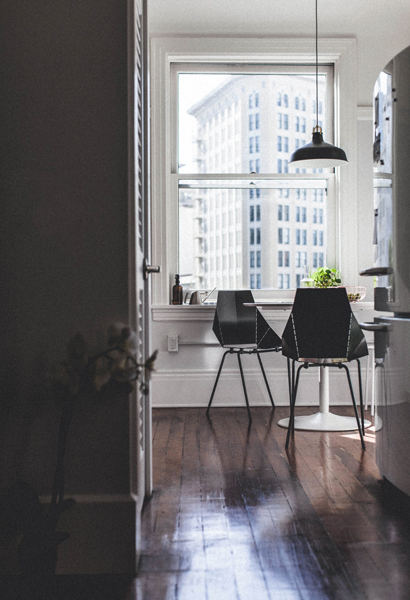 1. Double-Hung Windows – Double-hung windows have the ability to open from either the top or the bottom without extending beyond the exterior and interior of your home. This window type slides vertically with its two sashes and stays within the frame when opening and closing.
2. Casement Windows – Operating by a turn of a crank, casement windows are popular for their ability to fully open and bring in fresh air. Casement windows tend to have hinges on either side that provide extra security. With its hinges being embedded within the frame, it is very difficult for it to be broken in to.
3. Awning Windows – Similar to casement windows, awning windows are great for letting in air flow. Because it is hinged at the top it opens outwards, allowing air to enter your space from the bottom or on either sides. Awning windows can be installed almost anywhere – above, below, or next to an already existing window!
4. Picture Windows – Picture windows are made for the sole purpose of allowing sunshine to enter your space. This stationary window doesn't just offer a maximum amount of sunlight in to your home but also gives you the best view of your surroundings.
5. Transom Windows – Functional or stationary, transom windows are made to be either one! You will occasionally see this window type mounted above a door or window for the purpose of bringing in more light.
6. Slider Windows – Slider windows typically have at least one functional window which slide horizontally along a track. The functional window either slides over the stationary window or past it. This type of window is considered to be more modern and therefore best suits contemporary-style homes.
7. Stationary Windows – This style is not functional, meaning, it does not have the ability to open. The perk of stationary windows are that they are able to be customized in to almost any shape or angle you want! Just like slider windows, stationary windows are more-so found in modern homes, mixed in with operating windows.
8. Bay or Bow Windows – Bay or bow windows usually provide extra interior space as they typically protrude beyond exterior siding of homes. Combining both operating functionality and stationary designs, the bay or bow windows often include styles such as: double-hung windows or casement windows.
As you can see, there are many options to choose from when looking to upgrade your windows. Although they are all lovely, it is best to choose the style that best fits your home – functionality-wise, appearance-wise, and budget-wise! Want to learn more about the pros and cons of each design? Contact us! Let us help you create your dream home.